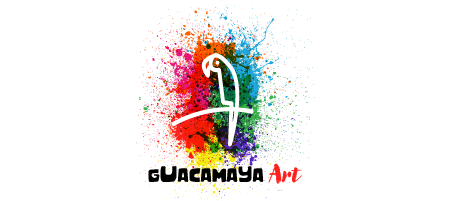 BIO Carlos Tirado- The Biography of the Artist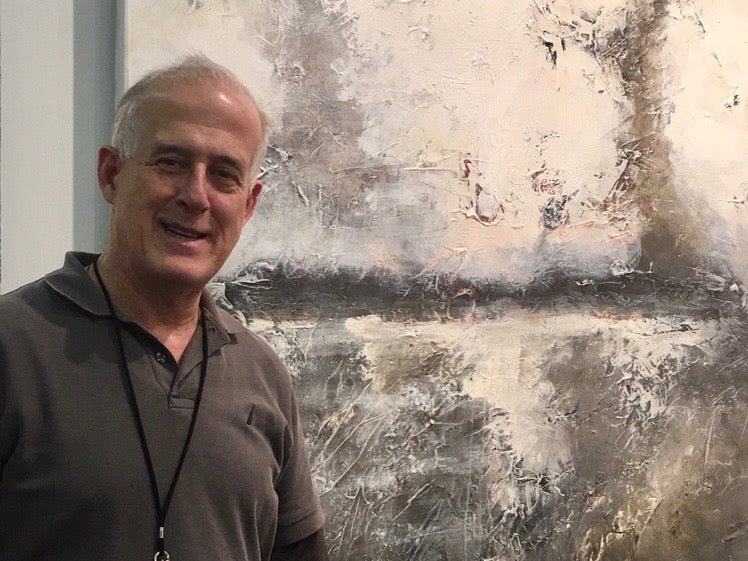 "I identify myself with those who perceive art as the expression of an individual in a specific and unique moment of one's life. I would describe my style as "abstract expressionism" moving sometimes into "figurative abstractionism" with an intense and colorful palette, including contrast and textures that invite the spectator to reflect about its form and meaning." -Carlos J Tirado
Carlos Tirado found his love for the arts when he was a really young boy in Caracas, Venezuela, his birthplace. When it was time to decide his future career, he pleased his parents by going to law school and becoming a lawyer, but he kept studying the arts and following his passion. A few years ago he moved to Doral, Florida where he opened his studio and teaches art at South Florida Art School. His main line of work is abstract-- creating texture by adding pigments or experimenting with different type of sands. He gets inspiration by the organic form of nature. His work is impeccable and invites you to look deeply at its details, colors and textures. By combining precise colors to create a unique color palette, each of his paintings has a different mood and takes you to a different place. While admiring his pieces, let your mind fly free into your imagination and a whole new reality of thoughts!
In addition to his abstract work, Carlos Tirado is also attracted to pop art. He uses antipixel techniques as a form of expression, and recently created the "Serie de fondo" in which he paints portraits of public figures and international celebrities using palette knife and oil paint.
We welcome Carlos J. Tirado to our family at Guacamaya Art. Explore his art here!
EDUCATION
Drawing and oil painting with Professor Lucio Rivas 1974
Artes Plásticas en el Instituto de Artes y Diseño YSSY. Prof. Javier Hernandez and with Prof. Graciela Simmonatto.
Draw and painting in Museum Tessari Rizzo. Caracas, Venezuela.
Initiation to the Sculpture with Professor York Stever. Caracas, Venezuela.
INDIVIDUAL EXHIBITIONS
2018 Nov 1- 26 MIArt Space. Wynwood, FL
2018 Miami Art Space. Wynwood, FL
2017 Lanyee Art Space. Shanghai China
2016 Miami Art Center. Wynwood, FL
2015 White Art Gallery. Bird Rd. FL
2015 MIArt Wynwood. FL
2015 Art Expo New York. NY
2011 Neo Pop Today by Carlos Tirado. Wynwood, FL
2010 Curators Voice Gallery. Wynwood, FL
2009 Power Museum. Coral Gables, FL
2007 Doral Conservatory and School of Arts. Doral, FL
2007 Museo de Aire Cordoba. Spain
2006 Arenas By CJ Tirado Yepes. Doral, FL
2005 Consulate of Venezuela in Miami. Miami, FL
2005 Embassy of Venezuela. Washington, DC
2005 Bolivarian Hall of Washington DC. Washington, DC
2004 Gallery NAPP. Weston, FL
2004 Government Center of Fort Lauderdale. Fort Lauderdale, FL
2003 NPTI Gallery Miami, Fl. 2002 Homenage to The Avila. Miami, FL
2002 The Venezuelan Center of Art. New York, NY.
2001 Weston Community Center. Weston, FL
COLLECTIVE EXHIBITIONS
2015 Jll with AOTA, 330. Madison Ave. NYC
2015 Skadden, 4 Times Square, NYC
2015 Galerie Besharat. Barbizon, France.
2015 Besharat Art Gallery. Atlanta, Ga
2015 Paul Robinson Fine Art. Marietta, GA
2014 Doral Art Pre Basel Show, Miami Dade College. Doral, FL
2014 Galerie Besharat. Barbizon, France.
2014 Crossing the sea, Rimonin Art Gallery, Miami FL
2014 Art Project Miami, Wynwood FL
2014 WHITE ART Gallery, Miami FL
2013 Ironside, Rimonin Art Gallery, Miami FL
2013 Treasures, Rimon Art Gallery, Miami FL
2013 Imagine, Rimoni Art Gallery, Miami FL
2012 Art of the Year, Le Corcierge Magazine Caracas, Venezuela
2012 Le Concierge Magazine Caracas, Venezuela
2011 Doral News Doral, Florida
2010 Doral News Doral, Florida 2008 Cosmo Guayana Pto. Ordaz, Venezuela
2008 Hispanic Target Miami, FL
2008 Aires of Cordoba Cordoba, Spain
2008 Museo de Aire Cordoba, Spain
2007 Miami Home and Decor Miami, FL
2006 Artist of the Month Doral Conservatory and School, Miami, Florida
2005 10th Latin Art Festival of Atlanta Atlanta, Georgia
2005 Consulate of Venezuela in Miami Miami, FL
2005 Embassy of Venezuela in Washington DC Washington, DC
2005 Seven Pillars of the Success Caracas, Venezuela
2005 Revista De todo Caracas, Venezuela
2004 Georgia House of Representative Atlanta, Georgia
2004 New Professions Technical Institute Miami, FL
2004 Third Place International Prize
2004 ALFREDO Cartoons "El Venezolano" Miami, FL
2004 Main Library of Broward County, "Raíces Encontradas" Ft. Lauderdale, FL
2003 New Professions Technical Institute Miami, FL
2003 Fascinación Magazine Caracas, Venezuela
2003 Miami Herald Miami, Florida
2003 Program: Solo Para Ustedes Miami, Florida 2003 Program: En la Mira Weston, FL
2003 La voz de Venezuela Miami, Florida
2003 Radio Kys FM 101.5 Caracas, Venezuela
2001 Fascinación Magazine. Caracas, Venezuela
2001 Diario El Venezolano Newspaper Miami, FL
2000 Consulate of Venezuela. Miami, FL
1999 Venezuelan Month en Miami. Miami, FL
1999 Rojas Gallery. Caracas, Venezuela
1999 Venezuelan Space, "El Nacimiento en Venezuela" Miami, FL
1998 Salones Hervigon Caracas, Puerto la Cruz, Barquisimeto, Maracaibo, Valencia, Venezuela
1998 12nd. Room of the Tessari Rizzo ́s Museum Caracas Venezuela
1986 Exhibition "Colectiva YSSY" Caracas Venezuela
1985 Exhibition "Colectiva Hotel Avila" Caracas Venezuela AWARDS
2012 Art of the year, Le Concierge Magazine Caracas, Venezuela
2008 Museo de Aire Cordoba, Spain
2006 Doral Conservatory Artist of the Month Miami, Florida
2005 10th Latin Art Festival of Atlanta Atlanta, Georgia
2005 Consulate of Venezuela in Miam. Miami, FL
2004 New Professions Technical Institute. Miami, FL
2004 Third Place International Prize Aires of Cordoba. Cordoba, Spain
2003 New Professions Technical Institute. Miami, FL
2002 Consulate of Venezuela. Miami, FL
2000 Consulate of Venezuela. Miami, FL
---
0 comments